Saint-Ulric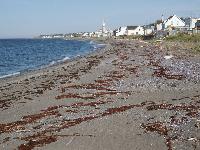 The sea, the wind… it's our nature!
Saint-Ulric is rich in historical and architectural heritage. For example, the neoclassical style church, which was built in 1878, is one of the most architecturally interesting churches in Eastern Québec.
Another heritage gem in Saint-Ulric is the Pierre-Carrier covered bridge, built in 1918 on the lands of the person after which it is named. This community's restoration and conservation efforts were rewarded in June 2000 when it received a heritage prize from the Conseil de la Culture du Bas-Saint-Laurent.
Where the Blanche River and the St. Lawrence River meet, on both sides of the bridge that crosses the rive, there are two very well maintained rest area offering very nice public accesses to the beach. They are equipped with picnic tables, rest rooms among other things.
Visitors travelling in the «Route Bleue» circuit get access to St-Ulric by the St. Lawrence river. Facilities are available at the old wharf in the heart of the village.